Monte Rosa 2002
<![if !supportEmptyParas]> <![endif]>
<![if !supportEmptyParas]> <![endif]>
Carla headed back to Oz while I went to the Parco Gran Paradiso,
where I did 4 days of the "Alta Via 2" from Cogne to La Thuile.
I walked for nearly 3 days with a fellow I met at a refuge, Fausto,
who was going the same route. The Alta Via (High Route) was a
bit disappointing because one goes down to the road level each
day, you do not stay high, cf hangovers.
<![if !supportEmptyParas]> <![endif]>
The highlight was crossing the Rutor glacier, as well as going to its
summit at 3486 m. This necessitated crampons and a local guide.
I went with Fausto, who had organised the guide. From the summit
there is a 360 degree panorama that includes Mt Blanc, the Matterhorn,
Mt Rosa and Mt Gran Paradiso. It is too much to take in.
<![if !supportEmptyParas]> <![endif]>
Then I spent a day walking near La Thuile with my friend Roberto,
his mother and girlfriend.
<![if !supportEmptyParas]> <![endif]>
The next morning I toured the town of Aosta, seeing nearly all its sights.
There is a fair number of monuments, both Roman and Romanesque, including
a Roman theatre (in scaffolding for the next 3 years). I shipped out to
Pont St Martin at around 11. This unexciting town lies at the beginning
of the valley that leads to Mt Rosa, at right angles to the Aosta Valley.
Another bus took me to Gressoney St Jean, which is in a German zone,
within the larger French zone, all within Italy. I should probably have taken
the bus all the way to Steffanel, where the road ends, but I needed to buy
a walking map, so I stopped off at St Jean instead. It is a boring resort town,
with lots of summer cottages, few hotels and mainly expensive restaurants.
German names are in evidence.
<![if !supportEmptyParas]> <![endif]>
The only reason Gressoney St Jean is worth a visit is for the 19th century royal
castle, the Castello di Savoia. Queen Margherita, who loved the mountains, built
it here because she enjoyed looking out at Mt Rosa from this charming little
castle, which reminded me of Gaudi. Every tower is different. I did not realise it
yet, but I was to follow twice more in her royal footsteps.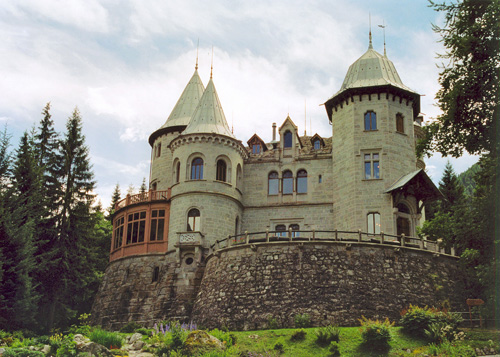 Castello di Savoia
<![if !supportEmptyParas]> <![endif]>
There were no buses after lunch, so I decided to walk to Steffanel (1825m),
a tiresome road walk of 6-7 km. I tried my hand at hitching and was soon
rewarded by a lift from a friendly Italian lady, her daughter and their lovely dog. I felt
very grateful, especially since I hadn't shaved for a week and was not too presentable.
I remarked to the lady that it was nice of her to give a lift to a wild man of the road.
She corrected me, "Wild man of the mountains", which sounded much better.
She dropped me off at Steffanel and suggested a walk I could do.
<![if !supportEmptyParas]> <![endif]>
Steffanel is not so much a town as a few hotels plus two cable cars. A good place
to get away from. I was unsure which way to go as it was already about 5 pm, a
bit late to start a long walk, even for me. I decided to head for the Rifugio de Lys
and started up the mountain alongside the cable car. It was not a great walk but
I saw marmots and there were signs "TMR", which I correctly guessed to mean
"Tour de Monte Rosa".
<![if !supportEmptyParas]> <![endif]>
I overshot my destination because I didn't notice that a new cable car
started where the first one ended - I thought it was still the same one.
Realising something was wrong, unsure of the track, and seeing the day
was drawing to a close (thus leaving little time to turn back in case I got lost),
I started to push myself to go fast. I guess I like these little challenges.
I eventually located the track again, as it had disappeared near the dirt
road that disfigures the mountain.
<![if !supportEmptyParas]> <![endif]>
As I passed through mist there was an ibex grazing about 50m away from my
destination. He was happy to have his picture taken. It had taken me 2 1/2 hours
to go up 1055m. I had certainly pushed myself to get there. It was worth it, as
everything went my way today. As I went over the pass two refuges, each with a
helipad, came into view. I arrived at 7.35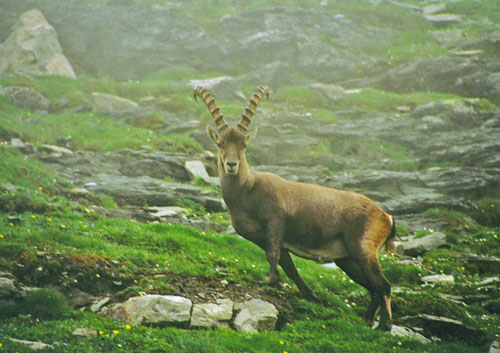 <![if !supportEmptyParas]> <![endif]>
Rifugio (= refuge) Guglielmina is at 2880 m and dates back to 1878, when it was the
highest hotel in the world. I was informed by the charming hotelier, Marco,  that the good
regina had slept in his hotel. It is a quaintly aged and friendly place where they know how
to cook. I had the best pasta for ages, good red wine and even beautiful classical music.
There is a great view over the open valley, which features pyramidal peaks and clouds
sweeping through the basin, often right up to the refuge. The clouds alternately hid
and revealed the mountains as I ate. A wonderful position. I had my own room with two
bunks.
<![if !supportEmptyParas]> <![endif]>
The next morning I was up at eight, greeted by another sunny day. At 9.20 I set
out on a morning walk, leaving my small pack at the refuge. I told Senior Marco
I would be back for lunch.
<![if !supportEmptyParas]> <![endif]>
I headed for Mt Rosa, thinking of reaching Punta Indren (3260 m), the top
of the highest cable car, or perhaps a bit higher, depending on the track.
When I reached the top of the second cable car I mistakenly headed down the
hill instead of up behind the building. Eventually I realised I was getting nowhere.
I studied the map more carefully, including without my for-distance glasses.
I retraced my steps and found the unmarked but unambiguous start of the trail.
<![if !supportEmptyParas]> <![endif]>
Annoyed at myself for making such a silly mistake, I bore upwards, only to make
another error. The track became more and more narrow, poorly marked and increasingly
difficult. Soon I found myself peering down from the summit of Monte Stolemberg (3202m).
The only way forward was down, but the descent in the forward direction looked very nasty
- sheer drops on both sides of a narrow rocky ridge. I did not have the nerves for it. I turned
back and was rewarded by the sight of short-stemmed forget-me-nots (at such a height!) and
hikers circling the mountain below me. I took a shortcut down and soon was on the proper
path again.
<![if !supportEmptyParas]>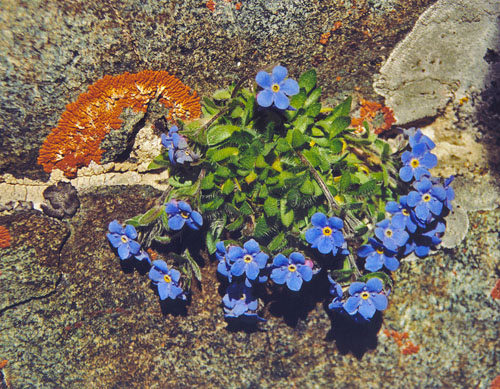 nontiscordardime in Italian
<![endif]>
The track wound up and down over jagged rocks until Punta Indren, where people come up
by funicular to admire the views or to start the walk up Monte Rosa. Was this to be the end of
the road for me? The path towards Rifugio Mantova was clear but it was in the snow, which I
don't like, as it entails slipping and wet feet. However the snow was neither deep nor frozen,
hence it was quite OK to walk on. I tossed up what to do, deciding eventually to follow the path
for a while until it got difficult. It didn't, so I went on. It was a flat traverse through the snow.
<![if !supportEmptyParas]> <![endif]>
The path forked below a rocky outcrop and I took the lower branch (I later learnt that
both paths lead to the Rifugio Mantova). I was scrambling over rocks again, which
I much prefer to snow. Soon there was the welcome sight of the refuge, which at
3470m, is high by Alpine standards.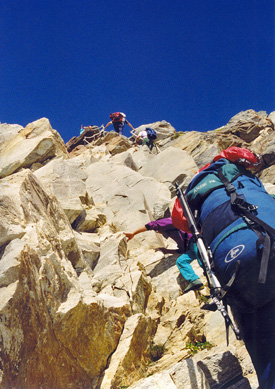 Scrambling up to the rifugio Mantova
<![if !supportEmptyParas]> <![endif]>
After a tasty napoletana and vino rosso I noticed that the next refuge, Gnifetti, was
visible and did not look hard to get to, though by now it was snow all the way (with
the glacier beneath). So I went up the 180 odd metres, which took me just 20 minutes.
I was now at the Rifugio Gnifetti, at 3647m. People were sunbaking or milling around.
<![if !supportEmptyParas]> <![endif]>
Sitting just below the refuge I wrote, "I feel the altitude when walking up. It is very
sunny yet clouds obscure the views. I am happy to be here. No time pressure to
go back or onwards. It is 3-4 hours to the next destination, all in snow. Even with
crampons it would be exhausting, so I am fairly happy to turn back. It would be nice
to get some views."
<![if !supportEmptyParas]> <![endif]>
At 2.25 I decided to pass my previous record of altitude reached by walking
(Mt Vioz, last year). So I went on up the hill, which steepened at this point. I
passed the last sign of any kind on the mountain, "Gnifetti", pointing behind me.
It was sunny and the track was clear - lots of prints in the snow - so I felt it was
fine to keep going. Clouds were building up behind me but they did not catch up.
It was always clear up ahead. I just wanted to keep going up.
<![if !supportEmptyParas]> <![endif]>
I must confess to feeling superior to the mountaineers I passed on the way, roped
together, carrying heavy packs, ice axs and wearing crampons. They trudged slowly
uphill. Carrying nothing and being alone I was much faster. Weightless is the way to go.
Conversely, I felt a vulgar tourist, intruding on mountaineering territory.
<![if !supportEmptyParas]> <![endif]>
I watched as tiny caterpillars threaded their way up the snow ridges of nearby peaks.
The wonderful aspect of the walk is that for the first time I was looking at high Alpine
peaks not from a distance of 5 km but from in amongst them.
<![if !supportEmptyParas]> <![endif]>
I reached the pass, Col de Lys (4151m) at 3.45. Since I felt fine and it was not late,
I decided to keep going, though I was not quite sure where to. Nothing but snowfields
and Alpine peaks to be seen. I ran into two Germans who, though unsure of where
they would spend the night, assured me that the ridge on the horizon was the location
of the Rifugio Margherita. Even when a helicopter landed there I was still a bit unsure,
not quite trusting my eyes. But I had faith in the good Germans.
<![if !supportEmptyParas]> <![endif]>
Now I was determined to press on and started walking quickly down a gradual incline
before the final rise that sweeps around to the right. To the left were the sharp pinnacles
of the Matterhorn and the Dent Blanche, piercing a basin of clouds. I hadn't expected to
see the Matterhorn from above!
It was the two Italians I had met earlier, who told me they were going to the Margherita
who gave me the idea to do so. I thought, if they can do it then why not me, and I am
faster.
<![if !supportEmptyParas]> <![endif]>
Towards the end of the climb I needed to rest briefly after walking every 20 metres,
as the altitude definitely slowed me down. The final stretch was a steep and narrow
channel through half-frozen snow. The refuge was perched improbably on the narrow
mountaintop. For the first time I felt somewhat fearful, as if I slipped I would slide down
the mountain and stop god knows where. Later I was told that if one slips one does
not slide very far, but I didn't know this at the time. So I was very careful to keep my
balance, using my bare hands to steady myself on the half-frozen snow.
<![if !supportEmptyParas]> <![endif]>
I arrived at 5 pm and thus became an "accidental Alpinist", as the Rifugio
Regina Margherita (4559m) is built on the 4 th highest summit of Mt Rosa,
which is second only to Mt Blanc in the Alps. Its highest summit is 4633m,
but Mt Rosa is more like a ridge of high mountains than a single peak like
the Matterhorn (which though lower is much harder to climb). The refuge is
named after the queen who ordered its construction and who had stayed there,
though the original building does not survive. It is also used to do research into
altitude sickness. I was told they had three cases of oedema on the previous
day.
Four views from the rifugio Regina Margherita
<![if !supportEmptyParas]> <![endif]>
I had no idea I would go so high at all, let alone today, on my morning
constitutional. I wrote, "Today was a peak experience. The views are
stupendous. If this isn't spiritual I don't know what is. It is for this that I came
to the mountains in Italy. I prefer to have done this than Monte Gran Paradiso,
which is 500m lower. It's funny how I do things unplanned and by degrees,
even Mt Rosa. The moment on which everything turned was seeing the refuge
when I met the two Germans. I am sure no-one else came up here alone,
unplanned and without equipment. Basically, the path was very clear, the weather
friendly and I was moving well. So why not? Essentially I have climbed Italy's
second highest mountain by accident. This refuge has the best views of any
I have seen. I need no longer regret not having slept on Mt Vioz at 3500m. Some
people have cancelled, hence I got a bed, accidental tourist that I am. Today is a
fantasy come true - high up without a guide, alone, light. Short of real mountain
climbing, it is hard to see how to lift the stakes in Italy, and probably in Europe.
I'll be remembered here as the crazy Australian who walked up without crampons.
The only trouble is that everything else will now be a let-down. I'll just have to relax,
I guess."
<![if !supportEmptyParas]> <![endif]>
The Margherita is not only the highest manned refuge on Mt Rosa, but in all Europe.
There is no running water. As in other refuges one is served dinner and one can buy
water and suchlike. Luckily I remembered to ask one of the staff to ring the Guglielmina
to say I would not be coming back that day. They would have set off the alarm otherwise.
Dinner was cooked by a young regina wearing a crown, but was hardly gastronomical.
Apparently water boils at 85 degrees here, making cooking difficult.
<![if !supportEmptyParas]> <![endif]>
At the refuge they told me that I had "taken risks" but I don't think I had been in any
danger. The trail had been perfectly clear and easy all the way, and the weather excellent.
I was very pleased to have reached so high, without equipment, experience or a guide. 
Crampons would have been useful - I fell over three times on the way down - but they
were not necessary. I saw only two crevasses near the track. Before this day I had not
walked any significant distance in snow. All I had with me was my bulky camera,
a small bar of chocolate and a notebook, not even gloves. It had taken me less than
7.40 hours to ascend 1,679m, mostly in snow. I had drunk only 1/2 litre of water on
the way up and now I was not particularly thirsty nor tired, as I had not pushed myself.
I had not felt the cold much either.
<![if !supportEmptyParas]> <![endif]>
Walking around in the refuge I felt the altitude a little but no headache. My only
symptom was an occasional toothache - the same tooth that had given me trouble
in the plane. Mostly Germans in the refuge. They had been taken here by their two
guides from Zermatt, paying 200 euro per person per day.
<![if !supportEmptyParas]> <![endif]>
The views of Alpine peaks close by, and further away of the Matterhorn and
the Dent Blanche were superb. They were less panoramic than the best views
of the Mt Blanc Tour, but this time I was in the middle of the scenery, not
observing it from a safe distance.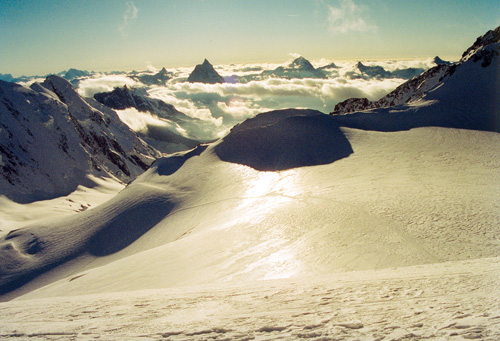 The Matterhorn as seen from the rifugio Margherita
<![if !supportEmptyParas]> <![endif]>
At 9.15 the sun set for the first time behind the tip of the pyramid called Dent Blanche,
re-emerged and set again three minutes later behind the base of the same mountain.
A lone cloud formed a golden halo above the mountain. Then the clouds settled in to
rest for the night, filling the basin like snow. There were no clouds above us. It remained
reasonably light until 9.30.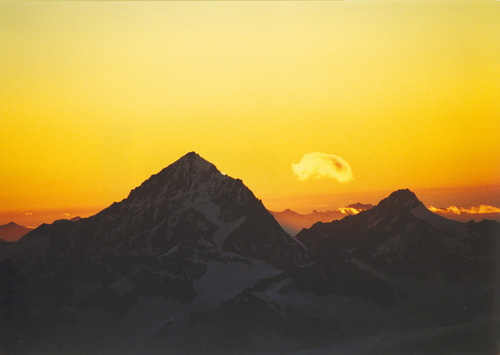 Sunset behind the Dent Blanche
<![if !supportEmptyParas]> <![endif]>
I slept badly but otherwise I did not feel the altitude very much.
<![if !supportEmptyParas]> <![endif]>
The next day I borrowed an ice ax for balance and returned to the Guglielmina for
lunch and then all the way down to Gressoney la Trinite, a town nearly 3000 m below
the Rifugio Regina Margherita. The only down side was that this walk had been so
spectacular that it seemed pointless to do any more.
Four snaps taken the next morning as I descended Lyskamm (4,527m)
Farewell to the high mountains
Mountain Home
Home
<![if !supportEmptyParas]> <![endif]>